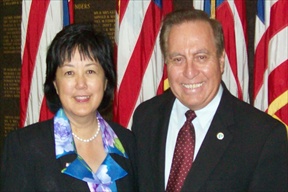 Dr. Mike and Adelle's Ministry and Friends
For celebrating 50 years of full time ministry since 1966, we would invite you to help them to achieve their vision and goal of raising up global Christian leaders with the knowledge and skills to impact the 21st Century in ministry and the marketplace. Dr. Mike and Adelle have worked tirelessly for more than 16 years to build Promise Christian University without a regular salary. So this year we hope that their years of sacrifice for others will touch your heart to to assist them in their international travels and ministry. Thank you for your love gift. Gifts are tax deductible.

Many of you have traveled with them overseas in the early days of their ministry. At a time where most people are thinking of retiring, Mike and Adelle cannot retire because of the calling on their lives to reach the world for Jesus Christ and to raise up global Christian leaders. Today as a result of their influence many tremendously gifted leaders are arising especially in Southeast Asia. They could not do this alone. World for Jesus International has stood by their side to assist them at home, and now we need your help to give them the ability to complete the work that God has called them too.

A one time gift is very welcomed. But continued support through World for Jesus International, or through the Partners of Promise Christian University would be such a blessing to them. What ever you can do to help, it is so much appreciated. May the Lord bless them and their team as they sacrifice to EMPOWER, EQUIP, ENCOURAGE, ENLARGE, AND ENFLUENCE THE NEXT GENERATION TO EMPACT THEIR CULTURE FOR JESUS CHRIST. (The 5ES of leadership training).
February 2017
250 Pastors Training
Baguio
October 2016
Hawaii Pastors Appreciation Dinner
September 2016
Europe Training Conferences
London and Belgium
JIL Pastors
February 2016
Baquio World for Jesus Pastors Conference
50 in attendance - Benquet University
Ordination service
January 2016
World League for Freedom and Democracy
USA Representatives
JIL in Taiwan
October 2015
World Holy Spirit International Conference
Seoul, Korea
October 12-14, 2015
November 2014
Korea School of Ministry
Keynote Speaker
Holy Spirit World Conference
October 11-16, 2014
Seoul, Korea
2015
Australia, Thailand, Philippines, Guatemala
April 2014
Dallas Grow Gathering
with international marketplace leaders
January 2014-February 2014
Philippines, Hong Kong and Taiwan
Leadership Conference, JIL Training
September 29-October 1, 2013
Waikiki, Hawaii
Holy Spirit World Ministry Conference
January 2013
Pastors Conference
Ramon, Isabela
Hong Kong and Manila
December
Pastors Network
Annual Christmas Party
October 2012
Honolulu, Hawaii
Holy Spirit WorldConference
November 2011
Miracle Services
Nov. 25-26
Malaysia
November 2011
A Line in the Sand
Prayer Gathering
Pasadena Rose Bowl
11.11.11
November 2011
Anointed for the Harvest
Covina, CA
November 4,5 2011
October 2011
Conference on the Holy Spirit
Waikiki, Hawaii
Oct. 23-25, 2011
2011
The Philippines, Hong Kong and Taiwan
January 16 thru February 9, 2011
MC
Massing of the Colors
February 20, 2011
Celebrating the Birth of President
and General George Washington