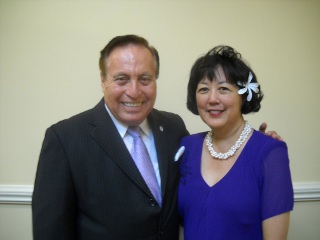 Meet Brother Mike and Adelle McKinney

You may invite Dr. Mike and Adelle to speak at your church by contacting them as follows:
Post Office Box 3003, Covina, CA 91722
(626)657-8003 #1 Office
E-Mail: WFJI@aol.com

Bro. Mike and Sis. Adelle were married in 1971. Together they evangelized Southern California with the California Evangelistic Association. In 1974, the Lord led them to found the Victory in Christ Church, Inc. which was later changed to the Victory in Christ Church and International Ministries.

In 1978, through the ministry of Morris Cerullo, the Lord placed the anointing upon Bro. Mike's heart and life to preach the gospel to the nations of the world with signs, wonders and miracles following.
Through the invitation of Sis. Leni Buan (Narcisco) and Bro. Eddie Villaneuva, Adelle and Bro. Mike and a team of 13 went to the Philippines in 1979 to conduct their first overseas evangelistic crusade in the city of Bocaue. Each night the power of God fell in the little town plaza and as a result the crusades grew and grew as they travelled to the Philippines year after year.

Bro. Eddie and Sis. Dory Villanueva, founders of Jesus is Lord Fellowship were ordained by Bro. Mike as was Sis. Leni Buan. Together, they evangelized the Philippines from 1979-1986.

In 1981, the Lord began to speak to Bro. Mike's heart about forming a team of ministers who would literally go to reach the nations of the world for Jesus Christ. Doors were opened to Korea, Malaysia, Guatemala, Mexico, India and Europe. These pastors and leaders would gather together once a year to be encouraged and equipped and empower by the Spirit of God for greater service.


In Honolulu, Hawaii 1982, Bro. Mike hosted our first WORLD FOR JESUS CONFERENCE. in Honolulu, Hawaii. Pastors came from all over the world and the power of God shook the hotel were the conference was held. We were honored to have one of the Foursquare giant's as our special guest, Rev. Gladys Church a pioneer in the ministry and powerful evangelistic preacher!

It was then that Bro. Mike and Sis. Adelle made the decision to incorporate the World for Jesus International Fellowship. As they continued to minister round the world, God blessed them and thousands were won to the Lord and today, there are literally hundreds around the world serving the Lord in ministry as a result of their early efforts.

From 1986-1996 the spent their time pastoring and from time to time doing evangelistic ministry. But it was not yet the time.

Finally 1999, through a series of prophetic events, the Lord opened the way for the World for Jesus International Christian Center and Ministries to become established in Covina, California and as a result the World for Jesus International Fellowship's original vision was once again placed upon the heart of Bro. Mike and Sis. Adelle.

Because of their burden for pastors of smaller congregations, the Pastors Network was established 1996 in the San Gabriel Valley. This network has been blessed by the Lord as pastors encourage pastors each and every month. The network has worked together on Revival 2000, the Body of Christ, Reconciliation Meetings, Dedication services, Ordinations services, community events and most importantly of all they pray earnestly for God's blessings for one another!

In the Spring of 1997, the Valley International Christian Seminary was birth. As part of the vision of encouraging, equipping and empowering, Bro. Mike felt led to become a chartered branch of the International Theological Seminary of California to provide a ministry to assist pastors in obtaining their earned degrees through the external study program. Since that time, Valley ICS has graduated 27 students.

In the Fall of 2002, God opened the door for Dr. Mike and Adelle McKinney to establish Promise Christian University with the help of some very special pastors and friends. Today Promise Christian University is a center for equipping leaders for the 21st Century with over 300 graduates ministering in the church and in the marketplace empacting their culture and nation for Jesus Christ.

In 2005 the Chaplains Training Program initiated. Dr. Mike McKinney served as Chaplain in the Civil Air Patrol since 2000 and was named Chaplain of the Year both for the State and the Region. In 2007, he joined the United States Volunteers Joint Services Command and initiated the Chaplains Training Program at Promise Christian University which has trained 37 chaplains who are serving as Police, Hospital, Prison and Military Chaplains.

In the Fall of 2013, Promise Broadcasting Network was established to promote programs that will impact the culture for Jesus Christ! Today, The Promise Channel, is growing where the ministry and the marketplace meet. We believe that God is using people in the marketplace to win souls for Jesus Christ and the church to train and prepare them for ministry.

NOW IS THE TIME. Pastors, Evangelists, Missionaries around the world are hungry for fellowship, for encouragement and to be a part of an organization that is balanced, anointed and teaching the pure word of God.

Applications for membership are available NOW. [Application]

Bro. Mike's Evangelistic Ministry
1979 - Philippines
1980 - Philippines, Hong Kong
1981 - Philippines, Korea, Malaysia, Guatemala
1982 - Philippines, Hawaii
1983 - Philippines, Korea, Malaysia
1984 - Hawaii, Korea, Atlanta
1985 - Philippines, India, Malaysia
1986 - Philippines, Mexico, Fontana
1987 - Guatemala, Hawaii
1988 - Philippines, India, Malaysia
1989 - Mexico
1990 - Canada
1991 - Canada
1992 - England
1995 - Ghana, Mexico
1996 - Korea
1998 - Covina, California
2000 - Malaysia, Philippines
2002 - Philippines, India
2004 - England
2005 - New York, New Jersey
2007 - Philippines, Malaysia
2009 - Philippines, Malaysia
2010 - Philippines, Keynote Speaker JIL 32nd Anniversary Hawaii 1st WHSIMC
2011- Philippines, Malaysia, Hong Kong, Taiwan, China, 2nd WHSIMC
2013 - Ramon, Philippines Hong Kong, Hawaii 3rd WHSIMC, Korea
2014 - Philippines, Hong Kong, Taiwan, China, Korea 4th WHSIMC
2015 - Philippines, Hong Kong, Taiwan, Korea Key note speaker 5th WHSIMC, Baguio Pastors Conference
2016 - Taiwan, WLFD, JIL Kaichung; JIL Manila; JIL Hong Kong
2016 - London and Belgium
2017 - Philippines

World for Jesus Conferences
*1981 Pasadena, California
*1982 Honolulu, Hawaii
*1984 Temple City, California
*1987 Honolulu, Hawaii
*2009 Pomona, California


Schools of Ministry and Leadership Training
*1982,1983 Seoul, Korea
*1983 Petaling Jaya, Malaysia
*1985 Ranchi, India
*1992 London, England
*1995 Ghana, Africa
*2000 Caloocan, Philippines
*2002 Olongapo, Philippines
*2007 Baguio, Bocaue, Manila Philippines
*2009 Petaling Jaya, Malaysia
*2011 Manila, Philippines
Kalabayan, Philippines
Hong Kong and Taiwan
*2013 Ramon, Isabella
Manila, Hong Kong
*2015 Baquio City

World Holy Spirit Ministry International Conference


2011 - Honolulu, Hawaii
2012 - Honolulu, Hawaii
2013 - Honolulu, Hawaii
2014 - Seoul, Korea
2015 - Seoul, Korea


Media Evangelism

*Promise Broadcasting Network, home of The Promise Channel


*Cross TV, hosting Israel Food Outreach, School of the Bible 2013
*Promise Christian TV Live

- 2010
*Cable Television: Los Angeles & Ojai 1985
*Radio: KLIT, KMAX, KNDI(Honolulu), KTYM. (1979-1983). (1984-1985)
*Jesus the Healer, Philippines TV

Print Ministry
"Return to the Old Path,"

published August 1983
*Pastoring the Smaller Church," published article 1996 Christian Times.
*Evangelism - The Purpose of the Church in the 21st Century 2006
*America's Favorite Sermons, 2007

HIGHLIGHTS OF Dr. Mike's MINISTRY:

1980 - Present Met Minister of Transportation and Immigration at Malacanang Palace, Minister Victor Nituda. Special Asst. to President Marcos. Prayed for the Nation.

1981 - Met Vice President Oscar Mendoza At the National Palace in Guatemala City. Prayed for the Nation.

1984 Met and Prayed with General Paik Sun Yup, former Chief of Staff of South Korean Army; and the son of Syngmund Rhee the lst President of the Republic of South Korea. Ministered at the church of Rev. Moon Man Pil, Chaplain and Full Colonel in the South Korean Army. Members of the Chief of Staff of the South Korean Army were present.

1984 - present Met Ambassador Abdul Koroma from Sierre Leone, who is now serving as Judge, World Court of the Hague recently retired.

1984 - 2002 Met and became close friends of Asst. to the Head of the Apollo Moon Program, retired Colonel Roy D. Vinson, U.S. Army

1987 Met and prayed for Lt. Governor of the state of Jutiapa in Guatemala.

1988 Prayed for and met, Senator Nephtali Gonzales who is majority leader of the Senate in the Philippines.

1990 Endorsed by Retired. Lt. Col. Don Castro, U.S. Air Force 1995 and Late Major General Patrick Faulkner, U.S. Air Force Retired.

2000 Names to Who's Who International in Religion


2002 - Met with Pres. Fidel Ramos, Philippines; Speaker of the House Jose DeVenicia; Cong. Joel Villaneuva.

2016 - USA Representatives to the World League for Freedom and Democracy

2017 - Introduced to the Senate of the Philippines in session. Met with Former President Ramos


CHAPLAINCY

2000 Appointed as Chaplain Captain Civil Air Patrol, 0U.S. Air Force Auxiliary2001 Chaplain of the Year, Sq. 64
2002 Chaplain of the Year, Group 1
2003 CAWG Chaplain of the Year
2004 PCR Chaplain of the Year
2005 Chaplain of the Year, Group 1
2006 Commendation Awards from CAP (4)
2008 Meritorious Service Award USV-JSC
2008 Presidential Volunteer Award
2009 Presidential Volunteer Award
2011 Commandant, USVJSC Chaplains University
2013 Chief of Chaplains, USVJSC Chaplains Corps
2014 Legion of Merit Award by USVJSC


A LITTLE HISTORY:
Michael was a young man headed for show business. At an early age he became the lead singer for a "rock 'n roll" group managed by fight promoter Mickey Davis. At the same time, he won accolades for his performance in little theater productions. While attending junior college and acting he was seen in a play. An agent from 20th Century-Fox studios set up a screen test for this young man who had just turned 20 years old.

While preparing to go to the screen test, the prayers of his parents were beginning to have an effect. He accepted the Lord has his personal Saviour and did not show up for the screen test. He resigned from the band, just prior to their tentative engagement to play in Las Vegas. He gave up his dream of becoming an actor. A few months later, the Lord called him into full-time ministry.

He lost his friends. He lost his opportunity for a show business career. He lost everything except Jesus Christ!

As a young minister, newly ordained he was invited to a Kathryn Kuhlman miracle service at the Shrine auditorium. As she was ministering to the congregation, she stopped and called three older pastors out from the large group of ministers sitting on the platform. And then she continued on in her message. Suddenly she stopped. Her long finger pointed again back to the group of pastors seated behind her. She pointed at Michael. "You young man, come here. I could not continue on. The Lord spoke to my heart that He was going to use you in an unusual way, you're road will not be easy, but it will be glorious!"

Years later after he and Adelle were married almost seven years, the Lord began to finally reveal to Michael the ministry for which he was called. Just prior to attending a Morris Cerullo World Conference in San Diego, California the Lord appeared to Michael in a vision. At the conference, in prayer in the wee hours of the morning, the Lord spoke these words to him, "Son, with the ministry that I will give you, you cannot confine to the four walls of the church, but I will send thee to the four corners of the earth."

Since that time, Michael and Adelle McKinney have traveled the world conducting crusades, miracle rallies, schools of ministry as the Lord opened the door.

As you listen to the simple yet revelational message of Bro. Mike spoken under the power and inspiration of the Holy Spirit, you will begin to receive a deeper revelation of Jesus Christ in your own personal life and direction and encouragement will come. We pray you will be inspired to do more for the Lord Jesus Christ and become stronger and more committed in your Christian walk at home, at school at work and where ever you go!

Visit Youtube.com (5estv)